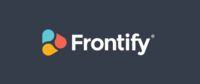 Frontify is a fast-growing company based in St. Gallen (Switzerland) with 90 people currently on board. We create an all-in-one brand management software, increasing brand consistency through centralized platform collaboration – for big businesses and small.
We'd love you to join us on our dynamic, creative adventure! We're open-minded and motivated about making a positive impact for our customers. Frontify is built on a collaborative culture of experimentation, trust, and transparency. We believe in being happy and fulfilled at work, and letting our personalities shine through everything we do. 
Frontend Engineering
Your new role

Together with a small interdisciplinary development team, you'll build our frontend and support our backend engineering activities. Working closely with UX and design, you'll improve the user experience by crafting beautiful features that deliver value to our customers. You'll also collaborate with other teams (from DevOps to Customer Success) to develop our product even further. What you'll build will be used by thousands of people – and we think that's kind of awesome.
This job is for you, if

you've got coding skills: JavaScript, HTML, CSS, PHP
aesthetics are important to you, and you have an affinity for beautiful design
curiosity and a willingness to learn are a part of who you are
you're friendly and approachable, and comfortable being authentic and honest
Goodies

Frontify is a very dynamic company where things change quickly and opportunities arise often, providing a lot of space for career and personal development. We're big on flexibility, and providing our Frontify family with time for side projects. Our office is pretty great, but more important is our culture of freedom, trust, learning, advancement, and happiness.

 

Next steps

Send us your CV and cover letter.
We'll invite you to an initial screening call within a week.
The next step would be getting to know each other better over coffee.
If things go well, we'll invite you to join us for half a day in our office in St. Gallen. You can experience our culture, and we can learn more about you in person.
You'll receive an offer to become part of the Frontify family.
Arbeitsort

9000 St. Gallen
St. Gallen
9000
St. Gallen